Hyda Hills Homes for Sale
With a prime address, just off Highway 75 and not far from Platteview Road, the quiet community of Hyda Hills offers convenience and impressive home designs. Surrounded by rolling hills, neighbors delight in a nearby pond and playground, with walking trails for outdoor recreation.
Hyda Hills Real Estate Listings
Hyda Hills Real Estate Listings
Hyda Hills Market Stats
In 2022, there were 45 homes sold in Hyda Hills. The average price of those sales was $380,000. The highest-priced home to sell was $500,000, while the lowest-priced home sold for $313,000.
If you go back to 2021, there were 51 sales. The average sales price was $339,000, with the highest-priced home selling for $500,000 and the lowest-priced home selling for $263,000.
View a list of homes sold in Hyda Hills in the past two years.
More about Hyda Hills
As some of the homes were constructed in recent years, this newer construction neighborhood offers everything you want in a home. Many residences even back right up to the walking trail, pond, or trees, making for a more peaceful community.
The majority of homes within Hyda Hills offer three- to six-bedrooms and up to four-baths. In addition, many come with either a three- or four-car garage, providing plenty of room for extra storage. With homes styles ranging from ranch to 1.5-story and two-story designs, homes include such features as open floor plans with kitchen islands, name-brand appliances, as well as a fireplace, and the enjoyment of a walkout basement. In addition, you can certainly expect to find homes with raised ceilings, master suites, and the extra advantage of a flexible loft area on the second level of some of the homes.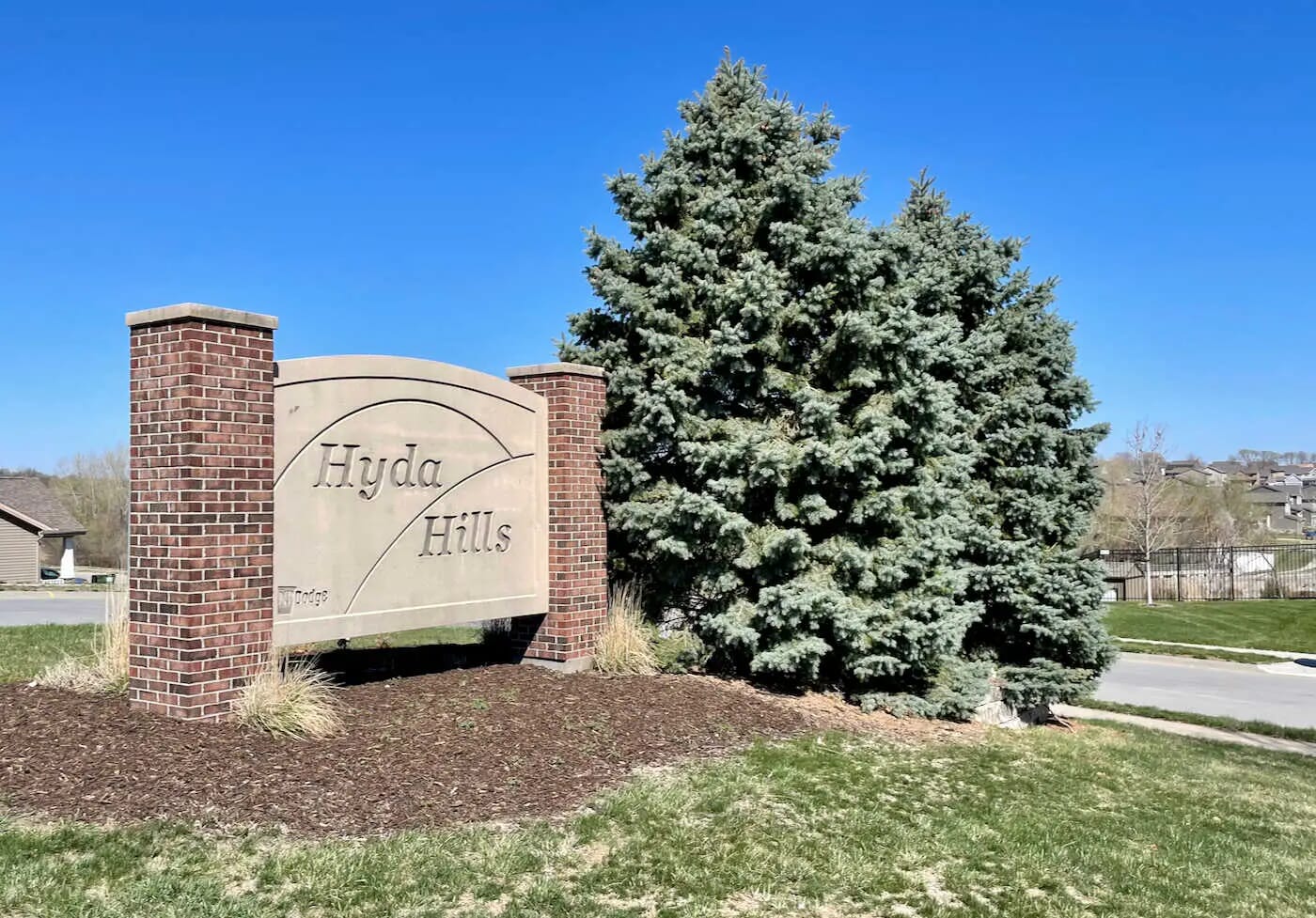 The homes of Hyda Hills generally range in size from around 1,600 square feet to more than 4,000 square feet, including up to ¼-acre for private outdoor living and entertaining space. Just minutes away from Omaha, Hyda Hills serves up a premiere location for living, close to several options in shops and restaurants, plus not far from a popular golf course and all of the many opportunities available in nearby Omaha.
Schools
Hyda Hills is served by the Bellevue Public Schools.
Students usually attend Fairview Elementary School, Mission Middle School, and Bellevue East High School.
Please Note: If the specific school and school district are important, please check directly with the school district's administrative office. School boundaries do change.