Elkhorn View Estates Homes for Sale
With large lots and a prime location, Elkhorn View Estates prides itself on quality homes close to everything in the Elkhorn area. Near 192nd Street and West Maple Road, the convenient location makes it easy to commute around the rest of the region, with nearby Ta-Ha-Zouka Park providing outdoor recreation, plus the public Indian Creek Golf Course mere minutes away.
Elkhorn View Estates Real Estate Listings
Elkhorn View Estates Real Estate Listings
Elkhorn View Estates Market Stats
In 2022, there were 6 homes sold in Elkhorn View Estates. The average price of those sales was $835,000. The highest-priced home to sell was $1,040,000, while the lowest-priced home sold for $610,000.
If you go back to 2021, there were 6 sales. The average sales price was $630,000, with the highest-priced home selling for $730,000 and the lowest-priced home selling for $525,000.
View a list of homes sold in Elkhorn View Estates in the past two years.
More about Elkhorn View Estates
This newer construction neighborhood is not far from area grocery stores, shops, local parks, and more. With quality construction and modern designs, the neighborhood invites new homeowners with a variety of unique options. Meanwhile, residents enjoy an excess of enviable indoor and outdoor living spaces.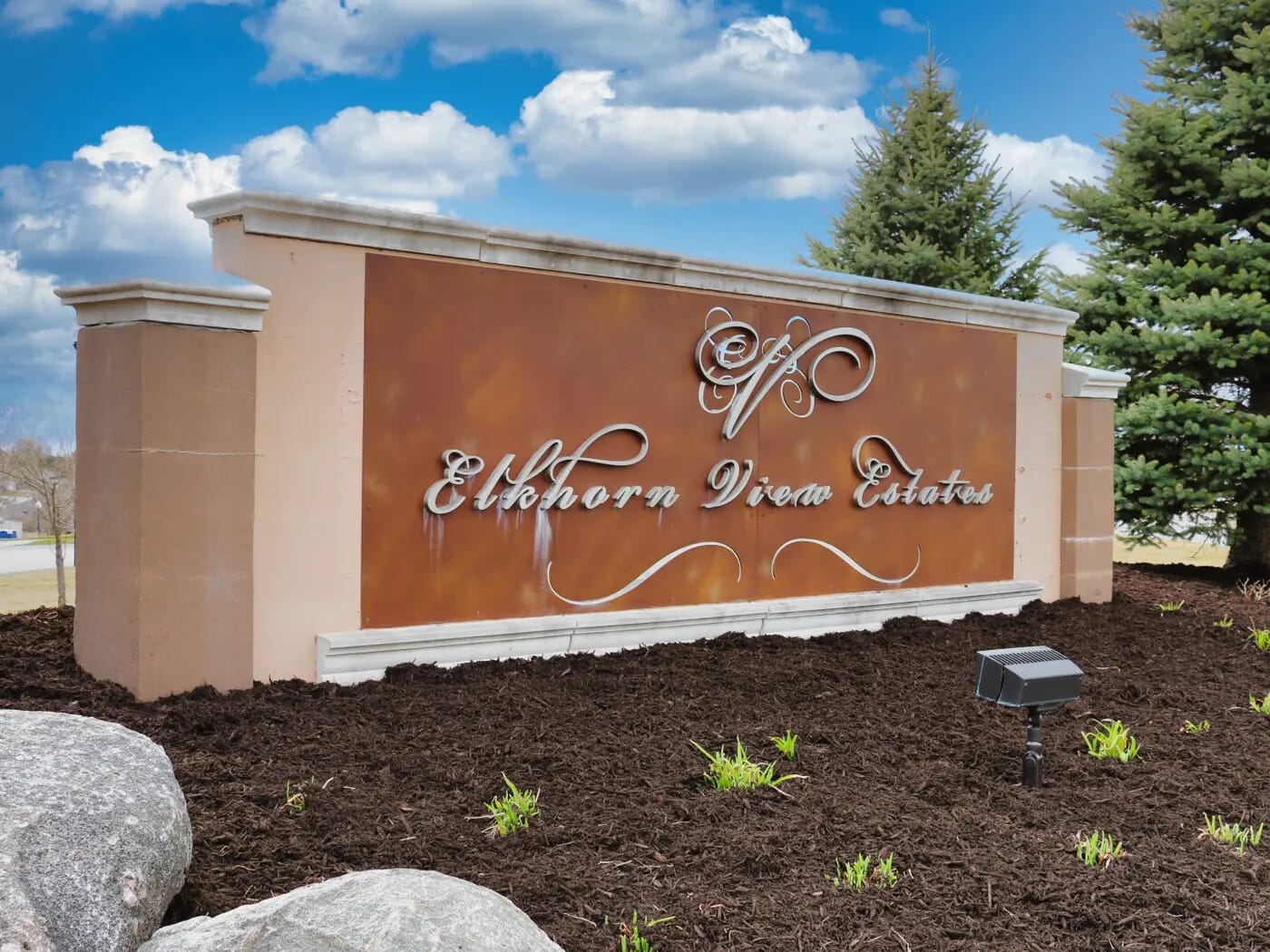 The homes of Elkhorn View Estates were generally built around the mid to late 2000s, along with more recent years. Ranging from three to six bedrooms and up to five baths, the homes additionally each include at least a three-car garage. It's common to find open floor plans throughout the community, with homes designed for modern living and entertaining. Common features and finishes include large kitchen islands, a walk-in pantry, quartz or granite countertops, a mix of hardwoods and carpeting, high ceilings, and abundant closet space for extra storage. Homes commonly range from ranch to 1.5-story and two-story floor plans.
The homes of Elkhorn View Estates generally include spacious designs, with around 2,100 to more than 5,000 square feet of living space. Homeowners within the community of Elkhorn View Estates are responsible for an annual assessment fee of around $150-$175, helping to take care of common area maintenance needs.
Schools
Elkhorn View Estates is served by the Elkhorn Public Schools.
Students usually attend Hillrise Elementary School, Elkhorn Middle School, and Elkhorn High School.
Please Note: If the specific school and school district are important, please check directly with the school district's administrative office. School boundaries do change.