Guide to Richland Homes
In 2021, Richland Homes built 97 homes in Douglas and Sarpy County. That makes them the 8th largest builder in the Omaha area (by number of homes)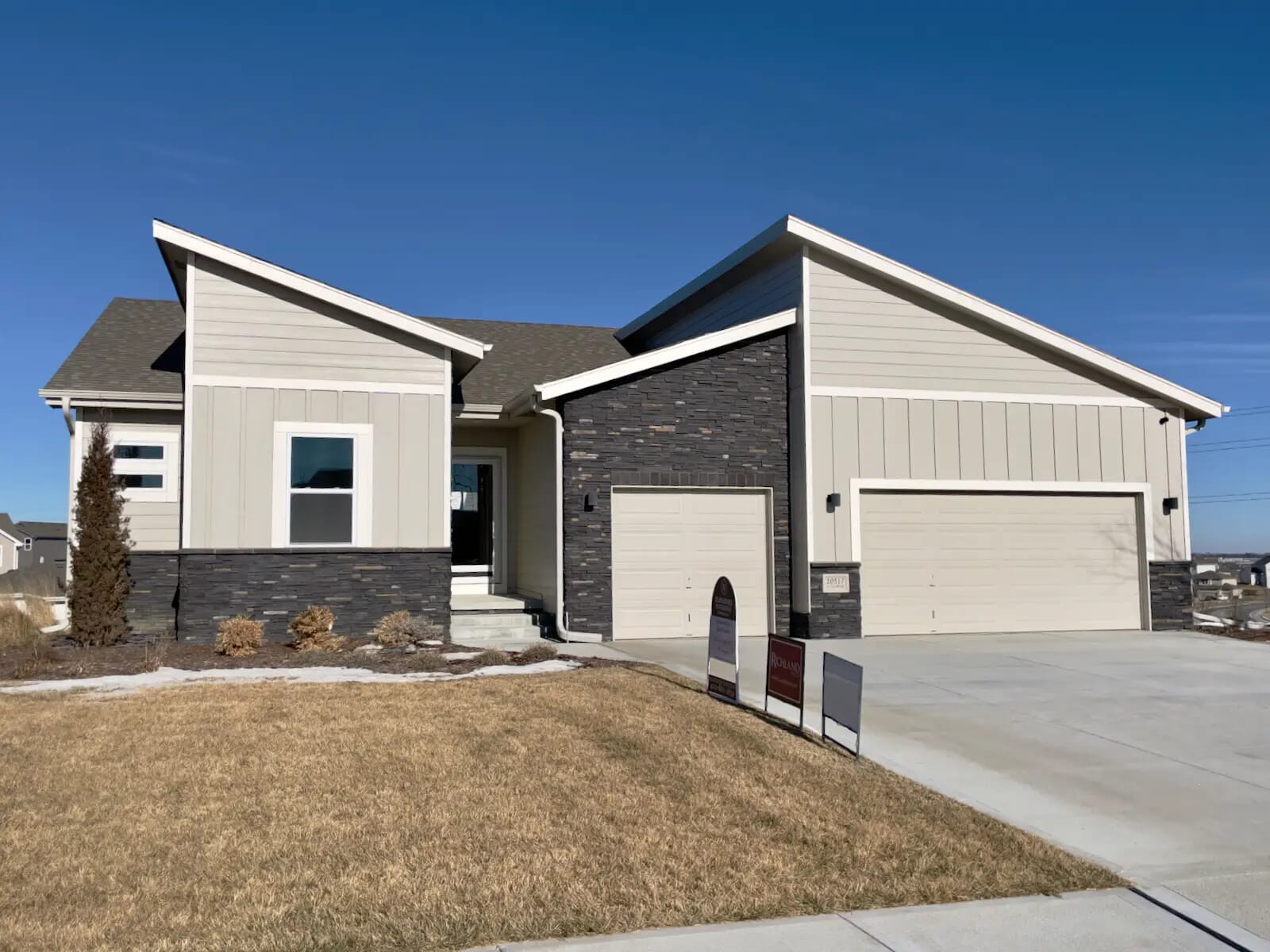 Building with Richland Homes means your wants and needs are within reach. You can count on Richland to build a home for your family to grow into.
Richland Homes' express homebuilding style gives you a new home without the wait and hassle of the traditional homebuilding experience. The process is simple: select your neighborhood and floor plan, add your personal touch with their endless selection of finishes, then they build a home that will leave your friends and family saying "Wow!"
Richland builds homes in Douglas and Sarpy County.
Current Floor Plans
Richland Homes currently has 15 floor plans.
Ranch
Blue Sapphire
1529 SF | 3 Beds | 2 Bath | 3-Car
Turquoise
1473 SF | 3 Beds | 2 Bath | 3-Car
2 Story
Diamond 3
2189 SF | 4 Beds | 2.5 Bath | 3-Car
optional finished basement with additional 1 bed and 1 bath
Pearl (Pictured Below)
2176 SF | 3 Beds | 2.5 Bath | 3-Car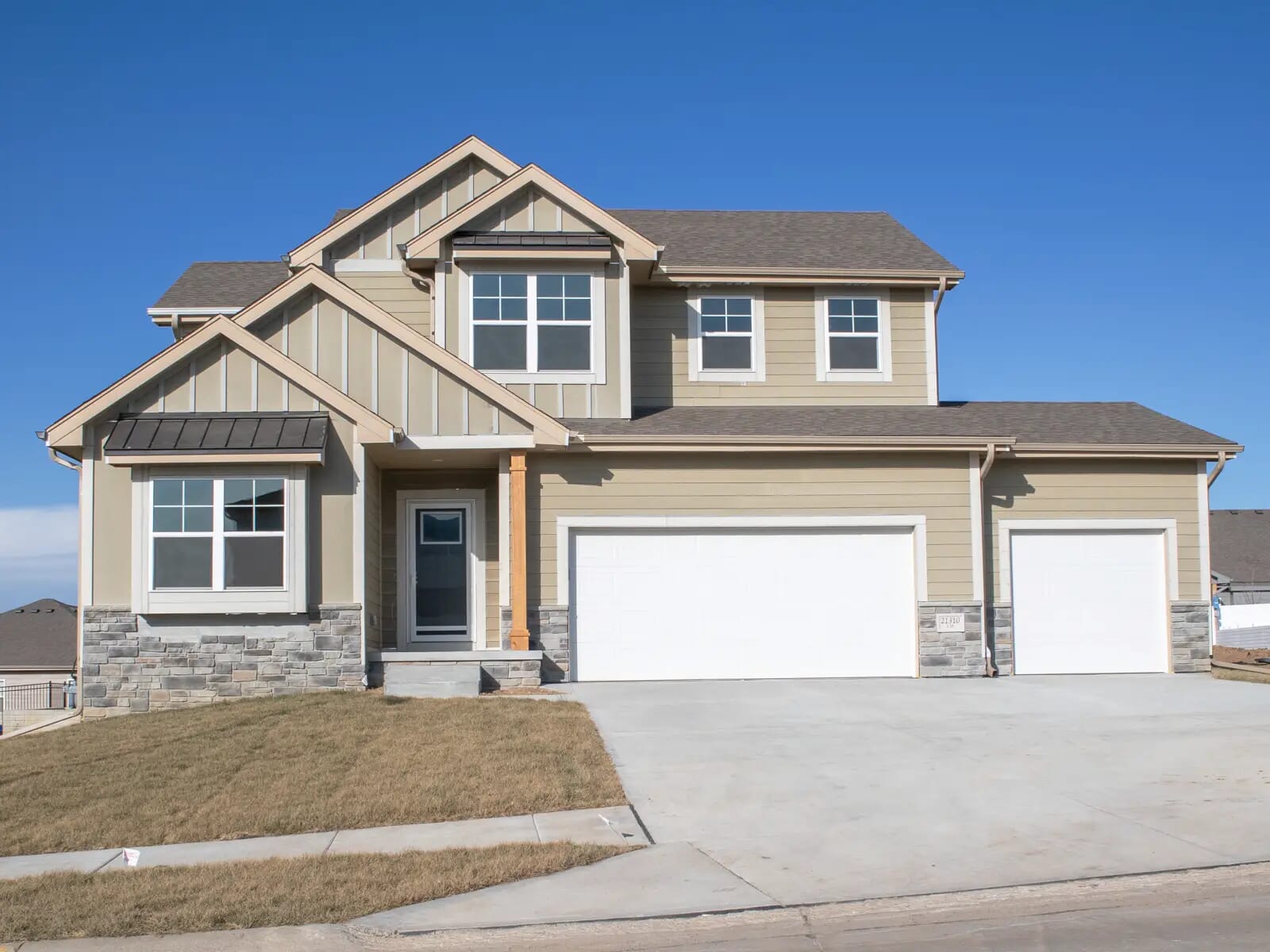 Quartz
2357 SF | 3 Beds | 2 Bath | 3-Car
Ruby 1
2428 SF | 4 Beds | 2.5 Bath | 3-Car
Ruby 4
2428 SF | 4 Beds | 2.5 Bath | 3-Car
Cobalt
1552 SF | 3 Beds | 2.5 Bath | 2-Car
Granite
1783 SF | 3 Beds | 2.5 Bath | 2-Car
Slate
1897 SF | 3 Beds | 2.5 Bath | 2-Car
Copper
1258 SF | 3 Beds | 2.5 Bath | 2-Car
Zinc
1382 SF | 3 Beds | 2.5 Bath | 2-Car
Villa
Adore
1381 SF | 2 Beds | 2 Bath | 2-Car
Bliss
1409 SF | 2 Beds | 2 Bath | 2-Car
Harmony
1482 SF | 2 Beds | 2 Bath | 2-Car
Model Locations
PAPILLION – GRANITE FALLS
10521 S. 113th Street
Model:
Pearl – Two Story
Turquoise – Ranch
SOUTHWEST – HILLS OF ASPEN CREEK
9506 S. 183rd Avenue
Model:
Quartz – Two Story
NORTHWEST – CHESTNUT HILLS
8605 N 177th Street
Model:
Ruby 4 – Two Story
ELKHORN – WESTBURY CREEK
4112 S 213th Street
Model:
Ruby – Two Story
Blue Sapphire – Ranch
COUNCIL BLUFFS – WHISPERING OAKS
7 Alder Circle
Model:
Bliss – Villa
LINCOLN – YANKEE HILL
7930 Maxine Drive
Model:
Quartz – Two Story
SOUTHWEST – HILLS OF ASPEN CREEK VILLA
9702 S. 184th Avenue
Model:
Harmony – Ranch Villa
Adore – Ranch Villa
Subdivisions
Grand Terrace
Southern Pines
Customizations / Selection Process
Richland Homes' Home Building Process:
Let's Begin - The process starts with choosing the community you want to live. It is good to consider things like your commute to work, access to schools, shopping, etc. when deciding what community meets your needs.
Once you settle in on the community, you're ready to go under contract. Your Richland Homes Realtor will walk you through the process and details of your Purchase Agreement including what floor plan, elevation, homesite and structural options you want for your home.
In conduction with the Purchase Agreement, the Realtor will collect your initial deposit of $2,500 which allows the lot and floor plan to be taken off the market as you put your final selections together.
The Selection Meeting - Now the fun starts! Express yourself in choices and options that allow you to personalize your home. Richland Homes offers plenty of choices to make sure your home is the dream you've always wanted. You will meet with our Customer Experience Coordinator to make selections, including cabinetry, countertops and interior and exterior paint.
Plans & Specifications - Richland Homes in house drafting team will bring it all together. When complete, you will get the final contract documents including plans, specifications and all changes to the the specifications for you to finalize and sign off. The balance of your $5,000 earnest deposit is due.
Construction of Your Home - Construction is the builder's job. Our talented team of local suppliers, engineers, trades and craftsmen will work in concert to build your new home.
One of the most important things you can do is remember to "Embrace The Unknown". We've built a few homes in our day and the one constant amongst every new home experience, is there is a certain amount of unknown to the process. Sometimes we discover things along the way that no one could anticipate, no matter how many homes you've built. We find expecting a bit of the unknown makes for an easier process when whatever you weren't expecting to show up.
New Home Orientation - When complete, Richland Homes will familiarize you with your new home and teach you how to maintain the home properly. In addition, the warranty program will be covered at this meeting.
A second aspect of this meeting is the 'punch list' where imperfections are identified, and we make corrections and/or repairs before you close and move in to bring those imperfections in line with our standards.
Welcome Home - Here's the day your dream is fulfilled! Your months of planning all come down to this single day when you move in to your brand-new home. Before you start unpacking, you will sign a package of mortgage and closing documents. You will also need proper identification and a certified cashier's check for your down payment and closing costs. After everything is signed and recorded, the keys to your brand-new Richland Home will now be yours.
Warranty - Once you've closed, we don't disappear. As you become acquainted with your home and acclimated to your community and surroundings, our warranty team is there to ensure your home is performing up to our standards. We'll continue to educate you on basic maintenance and address any questions or concerns you may have.
Standard Features
quartz kitchen countertops
LED under cabinet lighting
a USB outlet in the Kitchen and Primary Bedroom
sprinkler system
two trees
Thinking About New Construction? You NEED Your Own Agent
As your agent, I can do all of this...
Show You Model Homes From ALL Builders
Help You Choose The Right Builder (some builders are better than others)
Help Write The Contract, Explain It, and Negotiate On Your Behalf
An Independent Set of Eyes and Ears
The Builder Has An Agent, Why Shouldn't You?
Let me help.
I've represented a lot of families build homes in the Omaha area.
You deserve to be represented. And you should be represented by an independent agent.
This is the biggest purchase of your life, and I'm here to help make it easier.

Ryan Renner, Realtor
Fill out the form below and let's chat. Or give me a call at 402-321-4578.